Cringe with me – Brandon and I attempted another home improvement project this weekend.
We have a long list of things that we want to improve around the house, and we're getting to them all bit by bit. This weekend we finally moved down the list to installing new faucets in our master bathroom.
All of the bathroom fixtures in our house are the outdated one-handle-that-is-plastic numbers. They've all been here since the house was built (1994) so they're looking pretty funky. Brandon replaced the guest bathroom faucet about 6 months ago, and the faucets in our bathroom just kept looking shabbier and shabbier in comparison.
We started in on the project yesterday – bought the faucets and water supply lines and came home ready to go. By the time we actually got around to installing, though, it was 8:30 pm, and 9:00 by the time that Brandon realized his adjustable wrench wasn't big enough to get the job done. So… back to Home Depot after mass this morning.
We spent all afternoon in our bathroom – real romantic, right? – but now we FINALLY have beautiful new faucets. They look great and really bring the bathroom into this decade.
We went from this:

to this: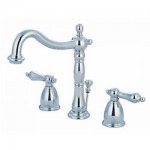 Now, if only we could make it far enough down the list to get to the matching tub/shower fixtures. 🙂